10 lessons learned in a year of lockdown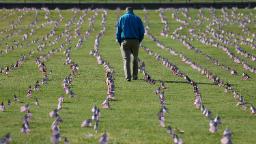 One year ago Saturday, the country went into its first stage of lockdown, though some adhered to guidelines better than others. Three hundred and sixty-five days later, Covid-19 has snuffed out more than 530,000 lives in the world's most prosperous country — roughly one-fifth of the global death toll.
Despite
a bumpy rollout campaign
in some states,
many foresee a summer
filled with hugs, dining out, vacations, concerts, sporting events, beers at bars, worship services, in-person learning, parties, museums and packed movie theaters — among other pleasures that we took for granted.
After receiving his second dose of vaccine, Joe Sanders, 93, of Princeton, West Virginia,
told CNN last month
that he didn't have audacious plans; he was simply looking forward to slipping out of the nursing home, where he'd been confined for his safety, for a little country ham and red-eye gravy.
"I was just really relieved, and I have hope that I'm going to get out of here and do some things," Sanders said. "That kind of sustains you, instead of feeling you're going to be here till the end."
Hope, too, has been a valuable weapon. It's one of many things Americans have learned in the last 12 months.
Other lessons:
1. On resilience
2. On sacrifice
3. On our elders
America isn't exceptional here. In September, many months into the pandemic, the World Health Organization director-general expressed disappointment in hearing a colleague say the massive global death toll was "fine" because the victims were mostly old.
4. On who's essential
In a nation that places immense, some might say lopsided, value on athletes and celebrities, the pandemic forced a re-evaluation of priorities, of who is essential. Now that Covid-19 has laid that bare, will it stick?
5. On versatility
This was supposed to last only a few weeks. For all the detriment the pandemic delivered, we showed we can pivot.
6. On technology
But it hasn't all been smooth.
7. On science
Too many opted to ignore the latter, but those who heeded the science can take some credit for helping save lives.
8. On truth
9. On strength and coming together
10. On lessons