America's women still on the sidelines as jobs recovery picks up steam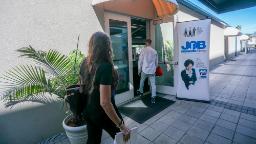 How to get them back could be a question on lawmakers' minds for years to come.
That's not only bad news for America's women who want to work but can't, it's also bad for the economy, which
would be stronger
if everyone who wants a job can participate in it as a worker.
"As schools closed and childcare services shuttered during the worst of the pandemic, that added responsibility and stress made working more difficult for some and took many away from their jobs," Powell added.
Last year, a Fed survey showed that the Covid-19 pandemic disrupted childcare or school for nearly 70% of US parents, and 25% of mothers reported they worked less or didn't work at all as a result.
How will we get the women back?
Public policy initiatives like care subsidies or universal pre-K could help alleviate the care burden and allow women to return to work while the tight labor market puts workers at an advantage. But the reasons keeping people out of the workforce are likely more complex than that.
"There just seem to be a lot of factors that are affecting people's employment and labor force decisions now," said Stephanie Aaronson, vice president and director of the Economic Studies program at the Brookings Institution.
Workers don't want to go back to bad jobs, Aaronson noted. Plus, she added, people's labor decisions tend to be persistent once made. And some women who may have thought that they would return to work after having a child could make a different decision in light of the pandemic.
"History shows us that big events can change people's behavior," she added, pointing to the shift in labor force participation after World War II. "It could be that we're witnessing substantial changes in people's relationship with work."
It remains to be seen how long it will take America to get it's female workforce back to its pre-pandemic size, but it could take years.
"It will be a slow recovery for labor force participation," Aaronson said.