Andalusia man first in Iowa to get new lungs after COVID-19 | Local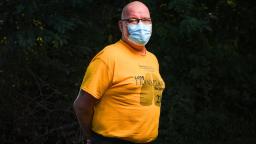 "I was crying; she was crying."
But organ transplants are both meticulously orchestrated and difficult to predict. All donors are different, and the harvesting process is delicate and subject to change, depending on the circumstances.
The patient has to be ready, too. In Randy's case, a stent was required for a relatively minor arterial blockage, and his body-mass index had to be where the doctors wanted it.
It appeared things were ready to go.
"We got the call on a Sunday morning at 6:30 that he was ready to go into surgery, and we hit the road and got to Iowa City by 8," Sue said. "Then we were told he wasn't ready, then he was. This went on for two full days.
"I admit: I had a meltdown."
At 8 p.m. the next Tuesday, May 4, Randy finally was taken into surgery. Sue got a call in the waiting room at 11 p.m., saying the transplant had begun.
The whole process took 12 hours.
After about four months in the hospital, everyone was ready to see Randy get better.
"As they took me out of my room for the transplant, the nurses all lined up in the hall, and they played the theme song from 'Rocky,'" he said.
"The doctors from his team all came running, because they wanted to be there," Sue said. "It was emotional for all of us."