Brooklyn subway shooting suspect at large after 10 people were shot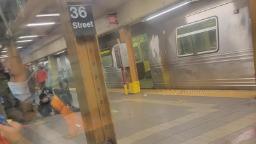 More than 360 people have been shot this year in New York, in 322 shooting incidents, according to data reported by NYPD through Sunday.
Shootings in the city have increased by 8.4% from 297 to 322 compared to last year, according to the data. The number of people injured in those shootings increased from 332 to 363 from 2020 to 2021. 
Over the last two years, shootings in New York are up 72.2%, and shooting victims up 70.4%.
Transit crime, broadly, is up 68% compared to last year, numbers that are closer to where they were at pre-pandemic levels. A total of 617 crimes were reported this year, compared to 367 through the same period last year, according to an NYPD summary of statistics current through Sunday.
Including Tuesday's shooting, there have been 131 mass shootings in America this year, according to the Gun Violence Archive, a non-profit that tracks gun death and injury. Those shootings left 141 people dead and 547 people wounded.