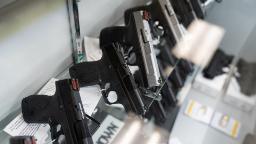 Chances are that they do.
In recent years, large asset managers like BlackRock have offered investors access to alternative funds that don't have exposure to gun stocks. It's part of a larger movement of investors who prefer to hold companies that are stewards of environmental, social and governance, or ESG, issues.
But the majority of passive investors who stow away some retirement savings into target funds each paycheck do have exposure to these companies.
If you own a small-cap index fund or an extended market index fund you probably have some exposure to these stocks, though a very small exposure. Sturm Ruger is weighted in the Russell 2000 at just 0.05% and Smith & Wesson is weighted at 0.03%.
If you have money invested in a target-date 401(k) fund, you probably also have some exposure to these stocks.
The retailers
For both Walmart and Dick's Sporting Goods, gun sales make up less than 5% of total revenue, according to Morningstar Sustainalytics.
Since a mass shooting at a Walmart in El Paso, Texas, in 2019, the company stopped selling handguns and only sells firearms meant for hunting. It hasn't sold assault rifles since 2015. Customers must be 21 to buy a gun at a Walmart store.
How to find out if you own a gun manufacturer or retailer
Is it worth it to divest?
Can I make an impact as a shareholder?
BlackRock and Vanguard own large percentages of stock in the two publicly traded US gunmakers, which means they have a lot of influence over the future of the companies. They'll be able to exert that power in a proxy vote on June 1.
Shareholders of Strum Ruger will vote on a proposal by CommonSpirit Health asking the company to conduct a third-party assessment about the human rights impacts of its products. The resolution is meant to get the company to acknowledge misuse of its weapons and to "take concrete steps to remediate adverse impacts."
Sturm Ruger has recommended shareholders vote against the proposal.
"Despite minuscule ownership of company stock, the proponents are using the proxy system to advance the gun control agenda they have been unable to achieve through legislative and other means," Strum Ruger wrote to shareholders.