Couple's produce business grew gradually, continues to flourish | Local News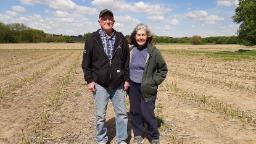 In the morning, the skies are painted in shades of red, orange, yellow and pink.
"When we have a rain, you can see a rainbow and it will be cool, because you can see the whole thing," she said. "Sometimes in town, you can only see a piece of it."
Susan's love of nature stems from a farming heritage that spans decades.
Her relatives came from Baden, Germany, and she believes they were farmers before they came to the United States in 1854.
After arriving in the U.S., they moved to Wisconsin and then came to Cedar Bluffs.
Her dad, Christian Krause, grew up on a farm. Once he graduated from high school, he went into the military in World War II and served in Germany. Twice wounded, he was awarded a Purple Heart.
Krause returned to farm at Cedar Bluffs. He married Carol Rasmussen in 1947 and they had 10 children.
Susan was the second oldest child.
Her grandfather, Roy Rasmussen, bought the farm south of Fremont, where her parents moved in 1954.
Here, her dad grew corn, wheat and alfalfa, and baled hay. Christian Krause later left farming and went to work at Fremont Hatchery.
Susan and Gordon married in 1969 and moved onto what became Grandview Farm in 1970.