Deer are devouring the world's largest organism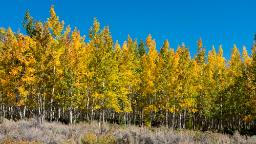 Although it looks like a woodland of individual trees with striking white bark and small leaves that flutter in the slightest breeze, Pando (Latin for "I spread") is actually 47,000
genetically identical stems
that arise from an interconnected root network. This single genetic individual weighs around 6 million tonnes. By mass, it is the largest single organism on Earth.
Pando has been around for thousands of years, potentially
up to 14,000 years
, despite most stems only living for about 130 years. Its longevity and remoteness mean a whole ecosystem of
68 plant species
and many animals have evolved and been supported under its shade. This entire ecosystem relies on the aspen remaining healthy and upright. But, although Pando is protected by the
US National Forest Service
and is not in danger of being cut down, it is in danger of disappearing due to several other factors.
Deer are eating the youngest 'trees'
Diseases and climate change
The next 14,000 years
Yet Pando is resilient and has already survived rapid environmental changes, especially when European settlers began inhabiting the area in the 19th century or after the rise of 20th-century recreational activities. It has dealt with disease, wildfire, and grazing before and remains the world's largest scientifically documented organism.
Last summer, when I was visiting my family in Utah, I took the chance to visit Pando. I spent two amazing days walking under towering mature stems swaying and "quaking" in the gentle breeze, between the thick new growth in the "bamboo garden," and even into charming meadows that puncture portions of the otherwise-enclosed center. I marveled at the wildflowers and other plants thriving under the dappled shade canopy, and I was able to take delight in spotting pollinating insects, birds, fox, beaver and deer, all using some part of the ecosystem created by Pando.
It's these moments that remind us that we have plants, animals and ecosystems worth protecting. In Pando, we get the rare chance to protect all three.
Richard Elton Walton is a postdoctoral research associate in biology at Newcastle University in England. Walton is affiliated with Friends of Pando as a volunteer.