Fact check: Misleading claims in attack ads against Pennsylvania GOP Senate candidates Oz and McCormick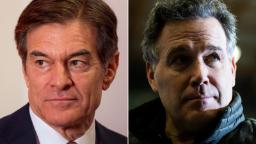 Here's a look at one of the attacks on Oz and one of the attacks on McCormick.
Two
television
ads
from a super PAC called Pennsylvania Conservative Fund try to portray Oz as a phony who is merely pretending to be a conservative. Each of the ads features a narrator who claims Oz "was a spokesman for a group who wanted to defund the police."
Sarah Reyes, spokesperson for The California Endowment, said in an email that Oz had no involvement with the foundation beyond the ad. "Dr. Oz has never been employed by us or been a 'spokesperson' for our organization," Reyes said.
Regardless, The California Endowment's stance on defunding the police in the 2020s is beside the fact-check point here. The key fact is that the super PAC ads attempt to use Oz's appearance in a single health care ad in 2010, years before most Americans had even heard the phrase "defund the police," to hint that Oz supports police defunding. That's deceptive.
Oz campaign spokesperson Brittany Yanick said in an email: "Claiming that Dr. Oz's participation in a single advertisement for the California Endowment fund constitutes Dr. Oz's endorsement of a position the organization took 10 years later is both misleading and wrong."
McCormick and the 2016 election
An ad from Oz's campaign claims that McCormick "paid for attacks on Donald Trump."
But it's still a big stretch to claim that McCormick himself paid for any attacks on Trump.