Eva Mireles, one of the two teachers killed in the shooting, took pride in teaching students of Latino heritage, her aunt Lydia Martinez Delgado told The New York Times this week.
For Alonzo, new retail and the construction of a grocery have been indicative of emerging opportunities in the mostly working-class community.
The sense of aspiration and hope — and mostly community — is reflected in a yearly tradition that took place Monday and several Uvalde residents described — the event when departed high school seniors visit younger students at the elementary school.
Uvalde High School principal Randy Harris posted a video on Twitter Monday showing her students wearing burgundy graduation caps and gowns high-fiving the elementary school students, not imagining that the lives of many of those children would be cut short the following day in one of the nation's worst school shootings.
Albert Martínez, a father of three, said his 8-year-old daughter was at the school and hid in her classroom while gunshots went off. He had attended Robb Elementary, which has a student body that's nearly 90 percent Latino, and so did siblings and other relatives. It's a family school, he said.
Before calamity struck Uvalde, the city had long taken pride in being the "honey capital of the world," as well as the hometown of several celebrities and high-profile political figures.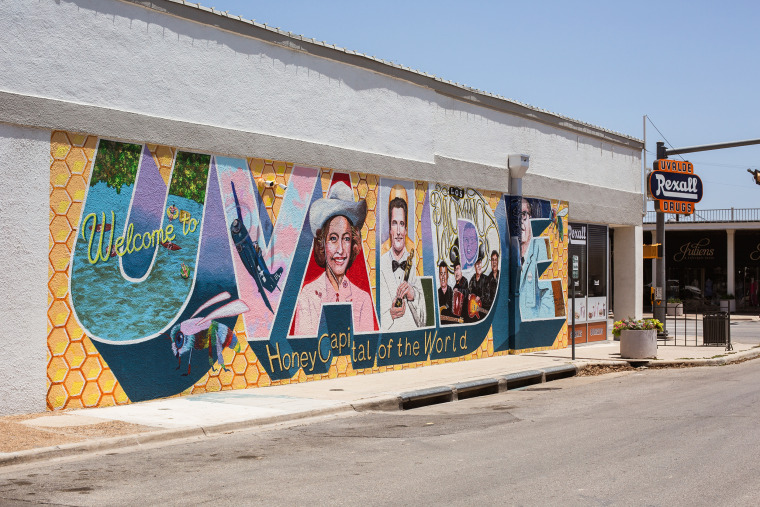 Some Uvalde natives include Hollywood actor Matthew McConaughey as well as former Texas Gov. Dolph Briscoe and Vice President Jack Garner (who served under Roosevelt). A museum in the city showcases Briscoe's and Garner's legacy.
A 40-foot mural in Uvalde pays tribute to Los Palominos, the Grammy-winning Tejano music group.
Now, that sense of pride and community has given away to shared grief.
"Our hearts our broken. We pray for the families and the people of our beloved hometown of Uvalde, TX," the band said in a Facebook post Tuesday.
In 1930, Mexican Americans made up 40 percent of Uvalde County's 12,445 residents. By 1960, Mexican Americans made up half of the population; it's now 80 percent.
Like many parts of the Southwest, Uvalde's Hispanic and Mexican history is intertwined in the city's fabric through its long and turbulent history.
In the early 20th century, the region saw government-sanctioned violence against people of Mexican descent; in Uvalde, at least 11 Mexicans were lynched in the period following the Mexican War of 1848, according to the Texas State Historical Association.