Jersey City building under construction collapses, damaging school; Nearby homes evacuated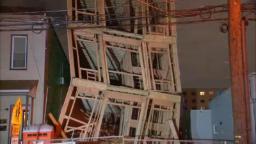 JERSEY CITY, New Jersey (WABC) — Several buildings were damaged, including a school, after a building under construction in Jersey City collapsed Monday, when gusty winds swept through the area.
Jersey City fire officials say the incident happened just after 8:30 p.m., when a call came in for a possible building collapse with people trapped.
They say a four-story building under construction was believed to have collapsed due to strong winds in the area.
The building was pushed off its foundation into the structure next door.
ALSO READ | Hundreds of FedEx packages found tossed into ravine, sheriff says
The family next door was the one who called 911. They made it out safely, but their two-story home was damaged.
A school in back of the building was also damaged, and as a result, school has been canceled for Tuesday.
Officials say they are worried about the safety of the building on the other side, because the collapsed structure could destroy that building too.
MORE NEWS: Homeowner told to take down 'Christmas Vacation' display or face fines
Ten residents, from the two homes on each side, are being relocated.
Building owners are now dealing with demolition crews to take the building down.
No injuries have been reported so far.
———-
* Get Eyewitness News Delivered
* More New Jersey news
* Send us a news tip
* Download the abc7NY app for breaking news alerts
* Follow us on YouTube
Submit a News Tip
Copyright © 2021 WABC-TV. All Rights Reserved.