Live updates on the climate change summit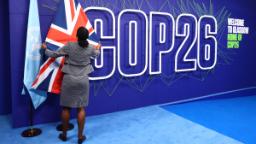 Nearly 200 countries have pledged to cut greenhouse gas emissions to stave off the worst consequences of our warming planet, but there is still a huge gap between what's been promised and what scientists say is needed, according to a report by the UN Environment Programme.
Ahead of the UN's COP26 climate talks in Glasgow, Scotland, dozens of nations had not yet officially updated their pledges to reduce emissions, as they are supposed to do under the rules of the 2015 Paris Agreement. 
Of the G20 countries, which account for 80% of the world's emissions, only six nations have formally increased their targets. The report also found that six G20 nations, including the United States, never met their older targets. The others were Canada, Australia, Brazil, South Korea and Mexico. 
The planet has already warmed by around 1.2 degrees, scientists say. The latest set of global climate pledges, according to the report, fall far short of what's necessary to limit warming to 1.5 degrees Celsius above pre-industrial levels — a critical threshold that scientists say the world should remain below.
The annual "emissions gap" report outlines the difference between what countries have pledged and what more needs to be done. To limit warming to 1.5 degrees, UNEP reports the world needs to slash current emissions in half in the next eight years. 
The report found that new and updated pledges on emissions will only cut an additional 7.5% by 2030, but a 55% cut is needed to meet the goal of containing warming to 1.5 degrees. A 30% reduction would be needed to stay below 2 degrees.
Under countries' current fossil fuel emissions targets, it will continue to warm to 2.7 degrees, according to UNEP.
"Countries have stretched, but they've not stretched enough," Inger Andersen, executive director of the UNEP, told CNN.
"Many of them sort of kick the can down the road, and we need to see not pledges anymore; we actually need to see real action."