Minn. interstate blocked by protests; groups in Philadelphia demonstrate over election, police shooting
In Philadelphia, two protests merged Wednesday evening.
The Count Every Vote movement, which aims to ensure all votes are counted in the presidential election, combined with protesters calling for the termination of officers involved in the shooting of 27-year old Walter Wallace Jr., who is Black.  
The two groups gathered in front of Independence Hall, according to the Philadelphia Inquirer, then marched from City Hall before arriving at the site where the Declaration of Independence was signed. Both groups then headed to Mayor Jim Kenney's home in Old City, according to the Inquirer.
The Wallace protesters were caught on video chanting "stop killing Black people" outside of Mayor Jim Kenney's office. City officials released police body-cam footage from Wallace's death on Wednesday.
Meanwhile, a similar County Every Vote protest erupted in Minneapolis, with a large crowd blocking traffic on Interstate 94 at Riverside Avenue, according to video shared by Fox 9 Minneapolis' Karen Scullin. 
State Patrol troopers and Minneapolis police said they are currently arresting protesters.
"Walking on the freeway is illegal and very dangerous for pedestrians and motorists," the State Patrol wrote. "We respect the right of everyone to express themselves under the First Amendment, but the freeway is not a place to do that."
Scullin noted that the crowd, estimated to be made up of more than 500 people, have been on 94 for at least an hour.
"Police say they're all under arrest," Scullin wrote. "Unclear what's going to happen to the 500+ people.
CLICK HERE TO SEE FOX NEWS' LIVE PROBABILITY DIALS
The voting protests in Philadelphia and Minnesota are the latest efforts in a national movement urging election workers to keep counting ballots, many of which were mailed.
Pennsylvania still remains too close to call in the race between President Trump and former Vice President Joe Biden. Trump is leading Biden, 51.4 percent to 47.6 percent, a difference of more than 230,000 votes, according to the latest estimates from the Associated Press Wednesday. Trump declared victory in multiple key battleground states, including Pennsylvania, early Wednesday, even though it remained unclear who had the votes to win. The president said that continuing to count ballots in states like Pennsylvania was an attempt to disenfranchise people who voted for him.
As for Minnesota, the Fox News Decision Desk called the race for former vice president Joe Biden. Biden lead the state with 52.6 percent of the vote compared to Trump's 45.4 percent, a different of more than 232,000 votes, according to estimates. 
CLICK HERE TO INTERACT WITH FOX NEWS VOTER ANALYSIS
The voting protests throughout the country are being led by Black Lives Matter and Shutdown DC, which conducted training for months leading up to Election Day. Other cities included in the movement include Washington, New York, Chicago, Los Angeles, Seattle and Portland.
In Washington, demonstrators also were set to meet at either Union Station or Black Lives Matter Plaza across the street from the White House around midday Wednesday to "keep showing up and keep supporting each other until the people swear in the new government."
"The polls have closed and record numbers of voters have cast their ballots in this election. Now it's time to make sure that every single vote is counted, so we can preserve the pillars of democracy and build the future we want to live in," the organization said on its website.
Crowds in front of the White House on Tuesday night were described in several media reports as the equivalent of a large block party, with hundreds listening to music and some dancing. There was a heavy police presence.
D.C. Police Chief Peter Newsham told WRC-TV Wednesday afternoon that he was "very pleased" demonstrations near the White House on election night were largely peaceful despite "a couple of minor incidents."
Police said four people were arrested in D.C. between Tuesday afternoon and Wednesday morning in instances related to the overnight unrest. Police were looking for a trio of suspects who reportedly slashed at least four people, including a Proud Boys leader. 
Businesses were boarded up prior to Election Day, and a fence was installed around the White House perimeter.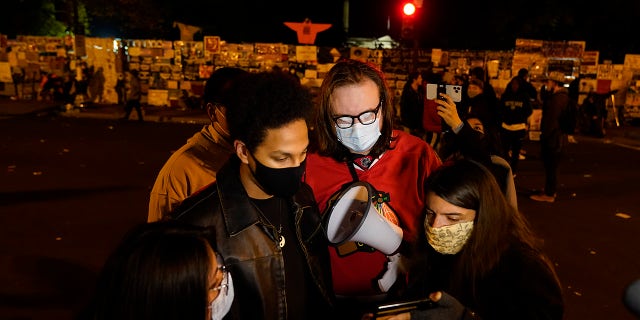 DC PROTESTERS ORGANIZED VIA ZOOM FOR MONTHS, THOUSANDS EXPECTED OUTSIDE WHITE HOUSE ON ELECTION DAY 
The group Choose Democracy went a step further than street protests to assemble an online guide to starting a "pressure campaign" by gathering neighbors to call local leaders and force them "to publicly commit to ensuring that all votes are counted & the results are respected."
The coalition Protect the Vote, made up of over 130 groups, including Choose Democracy, Color of Change PAC, Planned Parenthood, and even Republicans for the Rule of Law, has tentatively called for marches in various cities across the country from Nov. 4 until at least Nov. 7 if "Trump takes action to undermine the results," according to its website.
"Right now we are focused on ensuring that every vote is counted and Black votes aren't erased. We will use every tactic possible to put pressure on election officials to count every vote," Rashad Robinson, president of Color Of Change, the racial justice organization, said in a statement to Fox News.
ON ELECTION DAY, BUSINESSES BOARD UP AS POLICE BALANCE BETWEEN PROTECTING POLLS, LIVES 
"We can't assume that Donald Trump will respect the peaceful transfer of power," Sean Eldridge, the founder and president of Stand Up America, which started organizing the coalition in June, said in a statement last week. If Trump tries to interfere in the counting of ballots, or pressures state or local officials to say ballots should no longer be counted, Eldridge said "then we would mobilize."
CLICK HERE TO GET THE FOX NEWS APP
Stacey Abrams, the failed Georgia governor candidate turned activist, is scheduled to participate.
As previously reported by Fox News, recordings purportedly showing Zoom training sessions led by the Sunrise Movement revealed more sinister plans after Election Day should Biden not be declared the victor, including telling demonstrators to break into and occupy government buildings in D.C. and federal workers to slow down bureaucratic processes.
The FBI neither confirmed nor denied an investigation into the recordings to Fox News.