'Miraculously, the driver suffered only minor injuries'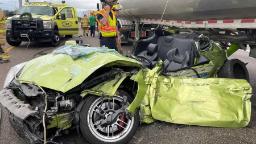 A driver survived with minor injuries after a vehicle became pinned under a tanker truck on Interstate 55.Ridgeland Police Chief John Neal said the crash was reported about 1:10 p.m. Tuesday on I-55 north, near County Line Road. The Ridgeland Fire Department posted pictures on Facebook that show a bright green vehicle with heavy damage. Fire officials said the tanker truck was carrying 8,500 gallons of gasoline when the crash happened."After a very tedious extrication, the driver was removed and transported to the hospital," RFD officials said in the Facebook post. "Miraculously, the driver suffered only minor injuries."
RIDGELAND, Miss. —
A driver survived with minor injuries after a vehicle became pinned under a tanker truck on Interstate 55.
Ridgeland Police Chief John Neal said the crash was reported about 1:10 p.m. Tuesday on I-55 north, near County Line Road.
This content is imported from Facebook.
You may be able to find the same content in another format, or you may be able to find more information, at their web site.
The Ridgeland Fire Department posted pictures on Facebook that show a bright green vehicle with heavy damage. Fire officials said the tanker truck was carrying 8,500 gallons of gasoline when the crash happened.
"After a very tedious extrication, the driver was removed and transported to the hospital," RFD officials said in the Facebook post. "Miraculously, the driver suffered only minor injuries."