One year after the worst jobs loss on record, millions of Americans remain out of work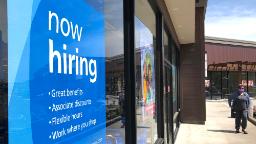 The pandemic has distorted a previously strong labor market, leaving predominantly lower income workers, women, Hispanic and Black workers unemployed.
Now the vaccine rollout, warmer weather and the
reopening of the economy are bearing fruit
, helping the jobs recovery to strengthen. Economists polled by Refinitiv on average predict 978,000 jobs were added in April, up from the
916,000 positions added in March
. But many of those forecasts far exceed the average:
Jefferie
(JEF)
is predicting 2.1 million jobs added, and G
oldman Sach f
(GS)
orecasts 1.3 million, according to Refinitiv.
Still, America is down millions of jobs —
more than 7 million
should the consensus forecast hold — compared to February last year, before the pandemic hit. Economists are confident that many of these lost positions will come back over the course of the year.
"The pick-up in employment growth isn't as strong as we had been expecting, especially given the recent boost to demand from the fiscal stimulus, and could be a sign that the increasingly widespread reports of labor shortages are starting to constrain hiring," said Andrew Hunter, senior US economist at Capital Economics.
This worker shortage could put pressure on wages to rise, which could be reflected in the April jobs report, economists said.
How the Fed could react
The other is to keep inflation steady. But the reopening of the economy, as well as higher raw material and energy costs are pushing prices higher. The Fed has said repeatedly it is too early to talk about raising its ultra-low interest rates or tapering its monthly, multi-billion dollar asset purchases.
The Fed is targeting inflation at around 2% but has said it is looking for a moderately higher rate over the medium term.
The central bank could signal an impending change at its June meeting, "with a formal tapering announcement at the September or November [Fed] meetings," said Veronica Clark, an economist at Citi, in a recent note. This would be in line with the agency's promise to alert the public well in advance of changing its policy.