Will we see the queen today?
It's not clear how much — if any — of Sunday's celebrations the queen, 96, will attend in person.
She made an appearance during Thursday's Trooping the Colour military parade, before watching a Royal Air Force flypast from the Buckingham Palace balcony with a gaggle of other family members.
She also made an unexpected showing later that day to light a beacon outside the gates of nearby Windsor Castle, one of thousands lit that evening in her honor across the U.K.
At around the same time, the palace also announced that she would have to miss Friday's thanksgiving service at St. Paul's Cathedral after experiencing "some discomfort" following the day's events. As expected, she also missed the Derby horse race at Epsom Downs, southwest of London, on Saturday. And she was also absent for the Platinum Party at the Palace that night.
The queen, who often uses a walking stick, has been forced to cancel a host of events at short notice in recent months after suffering what the palace calls "episodic mobility problems." She also caught Covid-19 in February.
 Queen meets Paddington Bear for jubilee celebrations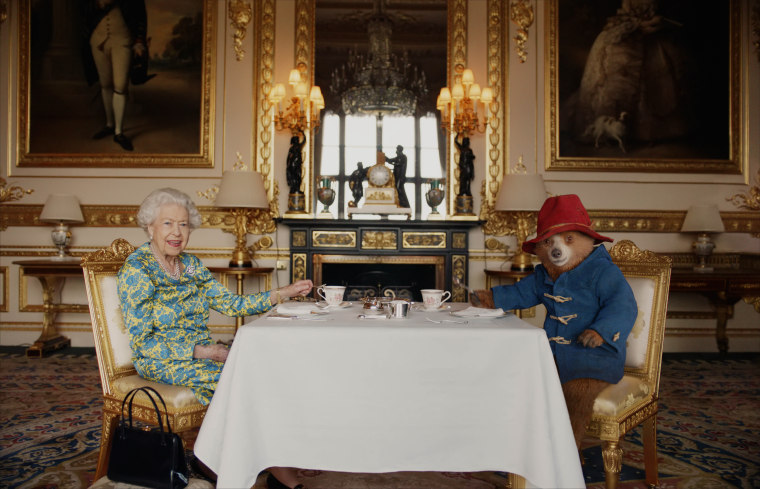 Queen Elizabeth II was seen meeting with Paddington Bear in a sketch which opened a concert that was part of her Platinum Jubilee celebrations at Buckingham Palace on Saturday.
Although she did not attend the event in person, the monarch's meeting with the animated character was broadcast onto the front of the building.
Just as she did at the 2012 London Olympics, when she appeared in a pre-recorded video with Daniel Craig's James Bond, the queen played along with the joke, acting alongside the CGI bear, voiced by Ben Whishaw.
As the pair took cream tea, both confessed to carrying around a marmalade sandwich.
Prince Charles leads tributes to queen at jubilee concert
Prince Charles led the tributes to his mother at a Platinum Jubilee concert outside Buckingham Palace Saturday.
On the third day of events to mark Queen Elizabeth II's 70th year on the throne, Charles told the crowd of thousands that she had "been with us in our difficult times. And you bring us together to celebrate moments of pride, joy and happiness."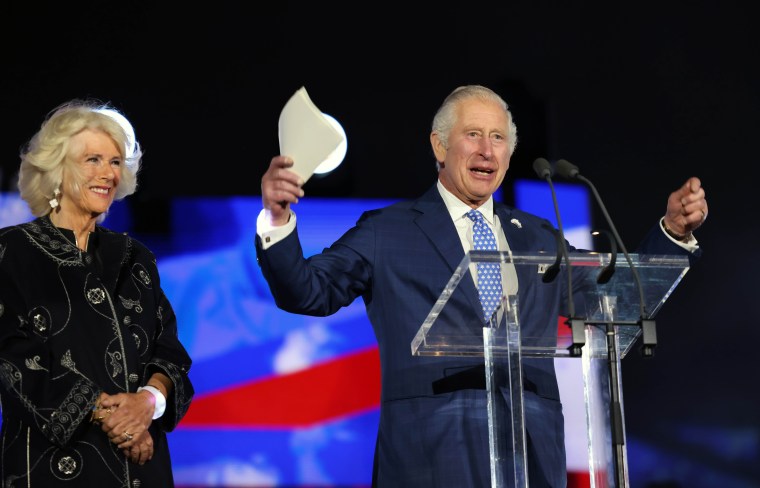 The queen, 96, did not attend the concert and has not made any public appearances since Thursday when she was seen on the balcony of Buckingham Palace with other members of the royal family. She did not attend a thanksgiving service at London's St. Paul's Cathedral on Friday because of mobility issues.
Charles told the crowd he "wanted to pay my own tribute to your lifetime of selfless service.