Running out of room: St. Louis hospitals forced to turn away patients from rural areas as COVID cases soar | Regional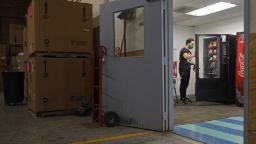 Hospitalizations for COVID-19 are at a dizzying record-breaking climb with no downturn in sight in Missouri and across the Midwest.
Emergency rooms are busy with patients waiting for hospital beds to open, hospital administrators say. Large metropolitan hospitals are having to turn away patients from small rural hospitals who depend on them for expert care.
The number of patients hospitalized with COVID-19 in Missouri topped 2,000 for the first time on Nov. 6 — a 247% increase since the state's lowest totals during the middle of June, according to the Missouri Hospital Association.
Hospitalizations have continued to climb sharply statewide over the past week, reaching 2,413 on Wednesday, according to Missouri's data dashboard.
The surge comes as hospitals see the typical seasonal increases in patients with respiratory illnesses like the flu and are trying to catch up on surgeries delayed in the spring when the first large wave of COVID-19 hospitalizations hit urban areas.
"We are in the heat of the battle right now," said Steve Edwards, chief executive of CoxHealth, whose Missouri hospitals in Springfield, Branson, Monett and Barton County are caring for about 115 COVID-19 patients.
The health system's only high-level trauma hospital in Springfield erected a 51-bed COVID-19 unit in April, rushed to complete a 24-bed project that was in the works and is now adding 36 rooms, with capacity to serve 72 patients, on the empty floors of an office tower, Edwards said.