Scoring Biden's performance on 4 key campaign promises in first 100 days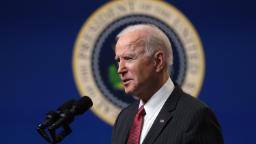 Facing a crisis of his own, before taking office President Joe Biden made some big promises about what he hoped to accomplish within his first 100 days. With a focus on getting shots in arms and money in pockets, Biden's 100-day agenda reflects what transition officials
told CNN
were his priorities — containing the pandemic, launching an economic recovery and tackling racial inequality. As his first 100 days in office come to a close, here's a look at how those promises measure up against
reality
.
PROMISE: Shortly before Biden took office, he set a goal for the US to have 100 million vaccine shots administered within his first 100 days, for an average of 1 million doses per day.
REALITY
: While some early media coverage
expressed skepticism
about the feasibility, Biden was ultimately criticized for not aiming high enough with this goal. By Inauguration Day, the country was already on track to achieve the desired level of daily vaccinations without any additional action by the Biden administration.
That being said, the Biden administration did facilitate partnerships with pharmaceutical manufacturers to ramp up vaccine production and increase availability, which likely helped the country maintain a fast pace of vaccinations.
School reopening
Economic relief plan
Criminal justice