U.S. to push NATO for military aid as Moscow warns WWIII dangers
Odesa residents leave flowers for victims of missile strike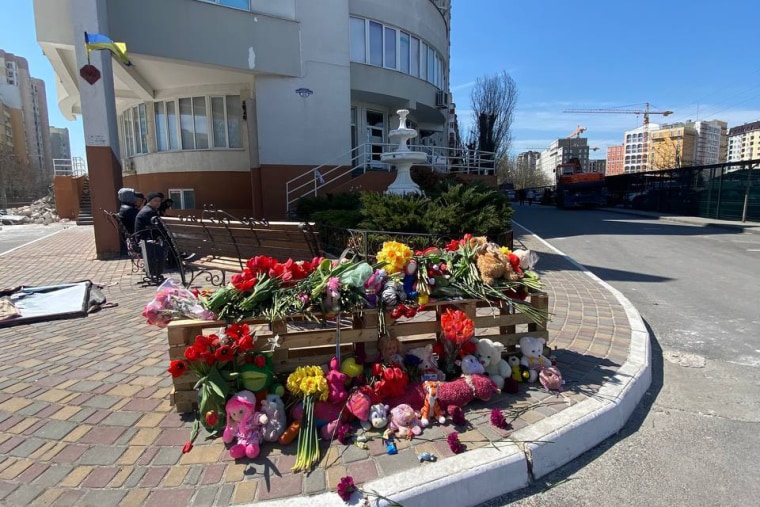 Residents of the southern Ukrainian port city of Odesa have left flowers to pay their respects to the victims of a missile strike on a residential building over the weekend. Among the dead was a 3-month-old girl.
Russian foreign minister warns the West not to underestimate the risk of nuclear conflict
Russia's top diplomat has warned that the threat of World War III is "real" and urged the West not to underestimate the risk of the Ukraine war escalating into a nuclear conflict.
"Everyone is reciting incantations that in no case can we allow World War III," Russian Foreign Minister Sergei Lavrov said in a wide-ranging interview on Russian television. He accused Ukrainian leaders of provoking Russia by asking NATO to become involved in the conflict.
By providing Kyiv with weapons, Western countries are "pouring oil on the fire," he said, according to a transcript on the Russian foreign ministry's website. Lavrov said the weapons shipments "will be a legitimate target," adding that Russian forces had already targeted weapons warehouses in western Ukraine.
Regarding the possibility of a nuclear confrontation, Lavrov said: "I would not want to see these risks artificially inflated now, when the risks are rather significant."
"The danger is serious," he added. "It is real. It should not be underestimated."
Ukraine apologizes for linking Japanese emperor to Hitler
The Ukrainian government has apologized for showing a picture of Emperor Hirohito, Japan's ruler during World War II, alongside those of Adolf Hitler and Benito Mussolini in an online video about the fight against fascism.
"Our sincere apologies for making a mistake in the previous version of the video. We had no intention to offend the friendly people of Japan," a government Twitter account said in a post on Sunday. It added that it had posted a new version of the video without a picture of the emperor, who has been referred to in Japan as Emperor Showa since his death in 1989.
Yoshihiko Isozaki, Japan's deputy chief cabinet secretary, said Tokyo had lodged a protest over the original video. "Portraying Hitler, Mussolini and Emperor Showa in the same context is completely inappropriate," The Associated Press quoted Isozaki as saying. "It was extremely regrettable."
He said the video would not affect Japan's strong support for Ukraine against the Russian invasion, which has included extensive economic sanctions, the provision of nonlethal military aid and the acceptance of Ukrainian refugees.